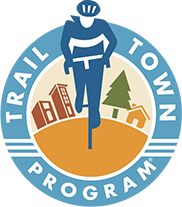 The Stillaguamish Valley Trails Action Team has identified an interesting community program that might be a model for a similar trail program in the Snohomish County area.
"The Trail Town Program® is an initiative of The Progress Fund working in small rural towns across western Pennsylvania and western Maryland, focusing on community and economic development around trail tourism and outdoor recreation."
As the Centennial Trail expands with the completion of the Whitehorse Trail and with future connections developing to The
Sammamish River Trail
and the
Snoqualmie Valley Trail
, this type of project could be developed here so that communities, businesses, adjacent land owners, and users will be better served with a regional way to share opportunities, focus on needs, and connect with each other and the managing agencies. The Centennial Trail Coalition of Snohomish County plans to grow with this process too.
The Stillaguamish Valley Trails Action Team is a focus group continuing the effort begun by the Snohomish County Rural Tourism Workshop Series. For additional specific information about the sessions and what was covered, visit
www.Snocotourismworkshops.org
.